SmartBloc is designed to be very easy to build. The system consists of a small number of high quality components and can be used for various construction applications. Simplicity of design and high quality manufacture ensures lasting durability and low maintenance costs.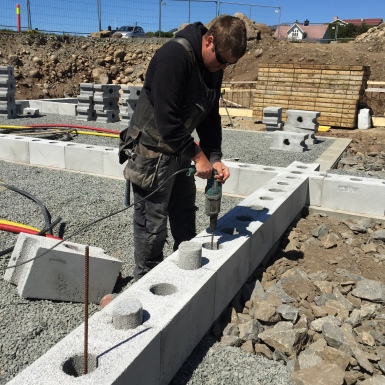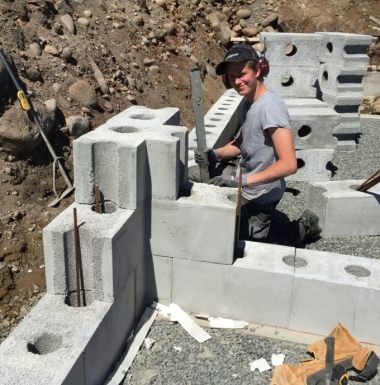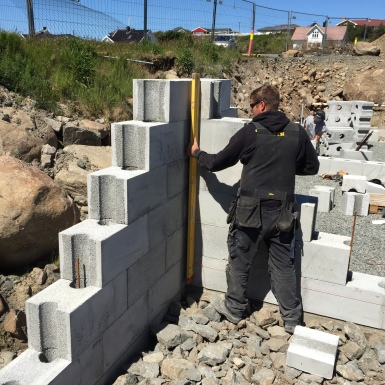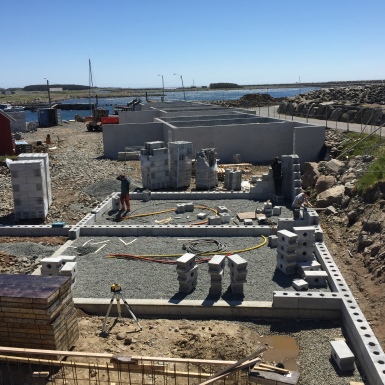 Building process
The first layer consists of standard blocks and corner blocks leveled on the foundation level. Every 60 cm there will be a steel reinforced concrete pillar.
Start in each corner and drill with Ø12mm drill, 10cm down into foundation every other hole CC 60cm.
70cm x Ø12mm rebar is mounted in drilled holes CC 60cm.
Insert half locking plugs into the remaining every second hole in the bottom layer. Starting 30 cm from each corner.
Build and level each shift using standard blocks and corner blocks.
Using complete locking plugs for every shift CC 60cm ensure that the entire wall align horizontal and lateral.
After the third shift, the wall is leveled vertically and horizontally.
The remaining wall is mounted with locking plugs CC 60cm to full height.
Complete the wall using U-blocks.
Place Ø12mm rebars with elongated equivalent wall height in all open columns CC 60cm as well as in u-block channel, and then fill with concrete.
The blocks are plastered on the outside with 2 layers of Smartbloc fiber plaster and fiber netting.
Recommended internal solution is to build out with steel battens, 50mm Rockwool and plasterboard. Alternatively, plaster on the inside with fiber plaster.
Smartbloc System I has U-Value better than 0.16 with 50mm Rockwool
Performed according to our instructions, Smartbloc System I can be backfilled up to 1 floor. See own description in documents section.